As a member of the Napoleonic Historical Society
you will receive the NHS Newsletter,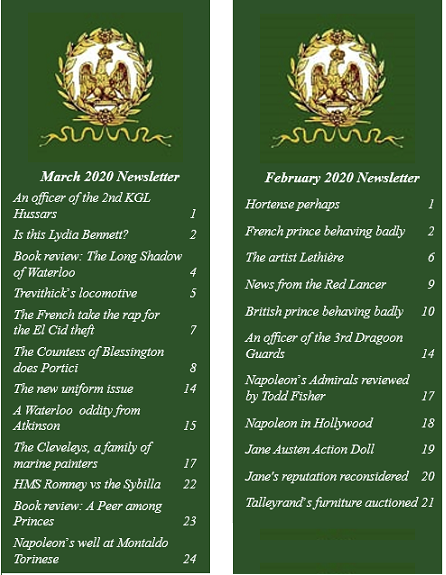 a bimonthly bulletin featuring historical articles on Napoleonic personalities and events, book reviews, museum descriptions, notices of upcoming events of Napoleonic interest, and anything else that might be of interest our readers. For example, did you know there are more than fifty Napoleonic Museums in the world, or that there are at least a dozen Napoleonic libraries here in the United States available for your personal use? Or that Napoleon liked to cheat at cards with his family and friends, taking a boyish delight in seeing how outrageously he could misbehave before getting caught?
Our newsletter covers the arts, food, news of recent discoveries related to the Napoleonic era, weapons, locations, campaigns and of course people both well-known and little-known. While of course we focus on people and things French, we don't neglect the British and other participants in our era. We also feature current events that relate to the Napoleonic era, including conferences, museum exhibits and concerts.
You can view a sample Newsletter by clicking on the links below. Like many of our recent newsletters, it has two parts:
January-February 2018 Part 1
January-February 2018 Part 2
We also issue several newsletter supplements each year. These can contain longer articles and/or book reviews. You can view a sample supplement using the link below.
Newsletters and Supplements are in PDF format. If you don't have a PDF reader, you can download one for free at