A REPORT ON THE 2012
NAPOLEONIC
CONFERENCE
SEPTEMBER 14-16
GETTYSBURG HOTEL
GETTYSBURG, PA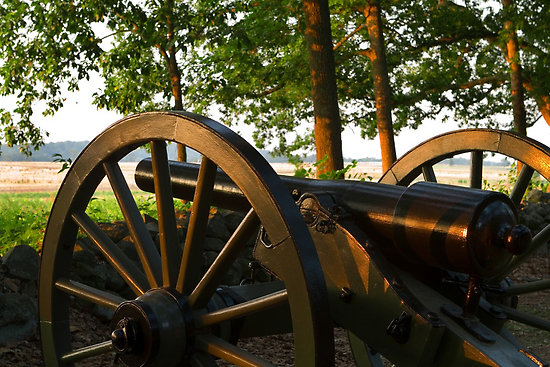 The 2012 Napoleonic conference was held in historic Gettysburg, Pennsylvania September 14-16 As always, the conference concentrated on Napoleonic history, and on Sunday we toured the Gettysburg battlefield from a Napoleonic viewpoint
While Napoleon may not have been at Gettysburg, his spirit most certainly was. The generals on both sides had studied his campaigns at West Point, and did their best to conduct the battle as he would have done. Robert E. Lee was the greatest practitioner of Napoleonic warfare since the Emperor himself, and George Pickett was often referred to as "the Marshal Ney of Gettysburg."  Most of us walked the field of Pickett's Charge.
The Park Service has worked diligently to restore the field to its appearance at the time of the battle, reconverting large swaths of woods back into pastures and farmland, burying unsightly telephone lines and constructing a new Visitor's Center. This is one of the world's best preserved and documented battlefields, with literally hundreds of statues and monuments honoring the men who fought and died there.
NEW FEATURE FOR THIS CONFERENCE
A new item on this year's schedule was our "blitz session," an informal series of five minute presentations, given by members who had information they wanted like to share with the others.. These included "show and tell" with a picture, document, or artifact, or it useful websites, interesting personalities, and an unusual fact or incident that people discovered.